Exhibition Radical Austria / Bart Lootsma
Bart Lootsma, Alexa Baumgartner and Maya Christodoulaki curated the exhibition Radical Austria, on the Austrian avantgarde of the nineteen sixties and early seventies in the Design Museum in Den Bosch. The exhibition, subtitled Everything is Architecture, for the first time features art, clothing, design and architecture in one show, which is one of the first […]
Radical Austria: The Movies. Introduction.
Parallel to the exhibition Radical Austria, Everything is Architecture in the Design Museum Den Bosch, on the Austrian avant-garde in art, fashion, design and architecture in the nineteen sixties and seventies, architecturaltheory.tv presents a selection of films on and by the protagonists of the exhibition, originally made for and broadcasted by the ORF.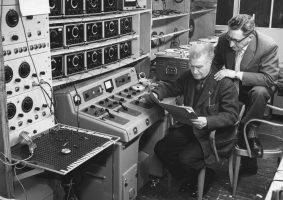 Sound Microbes / Cornelia Toifl
How electronics changed music and the perception of space With the help of actor network theory (ANT) as defined by Bruno Latour and Michelle Callon in the 1980s, this scientific work establishes the connection between the development of electronic music and the perception of space. "Poème électronique", a composition by Edgard Varèse, was a decisive […]
Complexity as a Narrative / Giacomo Pala
The paper studies how the notion of "complexity" and "chaos" have been used in architecture. A number of scientific, theoretical and architectural projects are discussed. Complexity is first discussed as a design method allowing the embodiment of scientific concepts in architecture. Still, it is noted that these architectures are not scientific objects, but are more […]
Nothing happens until something moves / Nina Rattensperger & Christine Gasser
This theoretical research deals with the concept of nomadism in the architectural avant-garde, and wether their ideas can still show certain values in contemporary architecture. Based on the nomadic theory of the French philosophers Gilles Deleuze and Felix Guattari and research on various nomadic designs from the 1960s and 1970s, it is interesting to see […]
Mountain Hotels 1890-1930: South Tyrol, North Tyrol, Trentino / Bettina Schlorhaufer
In its series of publications, The Touriseum – South Tyrol Museum of Tourism, introduces a new book on the long-gone hotel building tradition in the mountain regions of South Tyrol, North Tyrol and Trentino. The publication presents newfound and previously unreleased images and illustrations of museum quality to the public.
Architecture and the Dialectic of Sex / Bettina Siegele
Architecture and the Dialectic of Sex deals with the overall question if a feminist architecture does, or respectively, even can exist. Can there be such a thing, or would it remain a mere pipe dream? Within her research, Bettina Siegele connects various concepts and thoughts from the discourse of feminism with architecture, starting with the […]
Postmodern Post-Mortem / Giacomo Pala
This text, originally published on Archdaily, discusses the renewed interest in postmodernism, and why – while being an important thing to do – we shouldn't use this word anymore. "By refusing the dogma of the "Zeitgeist" (architecture as the expression of the age of something), the postmodern looks for a complexity of thought where multiple […]
At home we're tourists / Anna Luison
"At Home He's A Tourist!" (1979) is the title of one of the most successful tracks of the British band Gang Of Four active since the end of the 1970s. By accident the name of this song, written now thirty years ago, anticipates the contemporary socio-cultural condition, which is, among others, related to phenomenon of […]