Asmara Archive / Stefan Graf & Peter Volgger
'Asmara, the capital of Eritrea, has one of the largest collections of modernist architecture in the world (…) which, (…) approaches the significance of cities as Tel Aviv, South Beach (…) or New Zealand's Napier. The rediscovery of Modernism in Asmara offers the opportunity to observe the urban and architectonic qualities and potentials oft he […]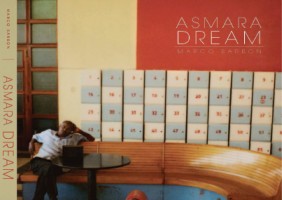 The Sleeping Beauty / Peter Volgger
Asmara contains one of the largest, enclosed ensembles of modernist architecture and might therefore gain the status of a World Heritage Site. It illuminates the urban transfiguration of the colonial dilemma and thus that of every European city. On the one hand we can hence investigate this architectural ensemble, as time seems to have stood […]
Interview Thomas Tedros / Peter Volgger & Stefan Graf
Thomas Tedros is an Eritrean tour operator and travel agent. He organises travels to Asmara and Eritrea for groups and individuals from all over the world. He talks with Peter Volgger about the tourism business, history and touristical sights in Eritrea and explains what it means to live and work in Asmara. Thomas Tedros was […]
The Asmara Factory / Peter Volgger
During our fieldwork trip to Asmara in March 2013 funded by the current FWF-project, we were able to visit the city's archive. Due to present political conditions it is an unique opportunity to get at these collections. The archive has an impressive collection of plans of built and even unrealised (!) projects, which gives insight […]
Interview Medhanie Teklemariam / Peter Volgger & Stefan Graf
Medhanie Teklemariam is an Eritrean urban planner, the coordinator of the Asmara heritage programe and the head of the DoI (Department Infrastructural Services Zoba Maekel, Asmara, Eritrea).
The Sleeping Beauty – Impressum / Peter Volgger
The Project 'The Sleeping Beauty. Architecture and Bio Politics' is supported by the Austrian Fonds for Supporting Scientific Research (Österreichischer Fonds zur Förderung der wissenschaftlichen Forschung – FWF).