The Rotterdam: Big and Blank / by Bart Lootsma
The Rotterdam is an enormous building with four main functions, roughly divided in offices, hotel, living, leisure and parking. It is not tailor-made but can theoretically accommodate a multitude of different businesses, which design their own interiors. Windows run from floor to ceiling and only on the west side the apartments have balconies, to profit […]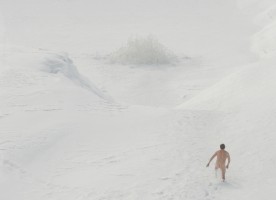 Critical Apparatuses / Bart Lootsma
Something makes people want to walk, ride or climb to mountaintops, how dangerous an undertaking this may be because of conditions of terrain and weather. It is something completely irrational. Some have themselves brought to the tops of mountains with trains, cable cars and even helicopters. It is often thought that this is to appreciate […]
The Aleph / Bart Lootsma
Today, we dwell almost like nomads in a mediated world. The computer screen takes over the role of the Aleph in Jorge Luis Borges' story: a point in space that contains all other points. When one looks at it, one can see the whole universe. Dwelling in the traditional sense may have become problematic, but […]
Body & Globe / Bart Lootsma
Body & Globe explores how since the nineteen sixties communication media and a radically increased individual mobility have drastically changed our perception of the world – and of architecture and urbanism. Where the individual body became a cyborg, a cybernetic organism, a human being with certain processes aided, controlled or replaced by mechanical, pharmaceutical or […]
Observer and Visionary – Theory and Practice of Stefano Boeri Architects / Bart Lootsma
Over the last decades, Stefano Boeri became one of the most interesting players in architecture and urbanism in Europe. An architect and academic, he became a founder of the international research network Multiplicity, an editor of magazines like DOMUS and Abitare and finally a politician, as City Councillor for Culture of the city of Milan.
Carmelo Baglivo's Pirated Drawings / Bart Lootsma
Together with Stefania Manna and Luca Galofaro, Carmelo Baglivo is one of the founding members of the internatinonally renowned Roman practice IaN+. Lately, he started posting collages and montages of contemporary architectural capriccio's on Facebook, thereby discovering new opportunities to provoke an architectural discourse. A selection of these Disegni Corsari (pirated drawings) is exhibited in […]
Anne Lacaton and Jean-Philippe Vassal in Conversation with Mathieu Wellner
"We feel it is our duty to start from scratch with each new project. That can also mean fundamentally questioning our own profession – and, with that, the way architecture is practiced. In this case, it seemed quite natural and the right thing to do." This is how Jean-Philipe Vassal from Lacaton & Vassal describes […]
Snøhetta's Performative Architecture / Bart Lootsma
On the occasion of a special issue of l'Architecture d'Aujourd'hui, Bart Lootsma reflects on the specific quality of the Norvegian office Snøhetta. "Snøhetta's architecture largely relies on performative aspects. It is an architecture of events, that rather asks What it can do?, to paraphrase Jeffrey Kipnis, than what it's internal coherence should be.